Boehner opposes net neutrality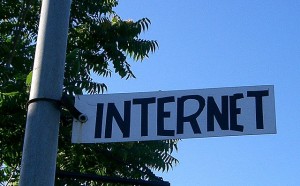 Somehow confusing net neutrality with "government takeover", Boehner would like to bar the FCC from creating any regulation guaranteeing net neutrality. As he sees it, corporate control of the information sent across the wires is a good thing.
Quotes from his speech at the National Religious Broadcasters Convention:
"The last thing we need, in my view, is the FCC serving as Internet traffic controller, and potentially running roughshod over local broadcasters who have been serving their communities with free content for decades.
At the end of the last Congress, some members of Congress sought a compromise on net neutrality that would give Washington temporary control of the Internet while we sort this all out.
As far as I'm concerned, there is no compromise or middle ground when it comes to protecting our most basic freedoms.
So our new majority in the House is committed to using every tool at our disposal to fight a government takeover of the Internet…
We're also going to do what we can to see that no taxpayer dollars are used to fund these net neutrality rules. "